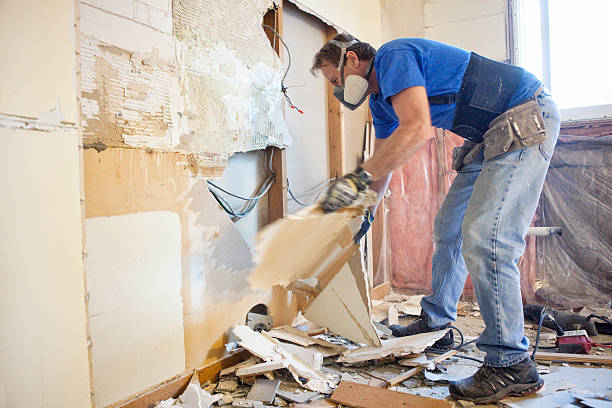 When you decide to renovate one of the first and most underappreciated steps is interior demolition. You may believe interior demolition is a simple matter of smashing down a few walls and tearing out a ceiling or floor, but there are several key steps to ensure the job is done safely and the old surfaces are properly left to receive new finishes. At A&M Abatement Services we take care of your demolition projects efficiently without damaging the remaining finishes.
What is Interior Demolition?
Interior demolition is the process of removing finishes or other features inside your home or business, this can include, cabinets, flooring, appliances, the removal of walls, and even stripping the walls right down to studs so you can completely update your space inside and out. Why should you hire a professional demolition expert and what does it involve? There are several dangers associated with demolition, and I don't just mean slivers and pinched fingers. In addition to the inherent dangers associated with this work, you must also consider if you know how to properly disconnect and isolate water and electricity, can you identify which walls may be load-bearing? Do you understand how certain things are installed and what may be damaged if they aren't removed properly?

How do we estimate the cost of your interior demolition project?

There are several factors to consider when estimating the cost of demolition and it is more than just the cost of sledge-hammers and screwdrivers.
Size and Scope of the Project

How big or small and complex or simple is your project? We will look at what you are removing and how much time and effort it will take to remove your old finishes.

Waste

What can be salvaged and reused or recycled? What needs to be disposed of and how much disposal is required; will it fit in a pick-up truck, will you need a large trailer to transport it, or do you need a bin or several bins on site?

Hazardous Materials

Asbestos – Did you know that asbestos can be found in several materials inside your home including linoleum, vinyl floor tiles, ceiling or wall texture, drywall joint compound, pipe elbows, and vermiculite insulation? Proper safety procedures must be followed when dealing with asbestos-containing materials to ensure the safety of workers and of occupants after the renovations are complete (asbestos fibers are so small that they can remain airborne indefinitely, even after the area has been cleaned up). Proper procedures and final air clearance are critical when dealing with Asbestos.
Mould – If any parts of your home have been exposed to a lot of moisture over time possibly from flooding, leaks, or steam you may find mould when you open up walls or attic spaces. We can safely remove and clean up any mould as part of our abatement services.
Lead Paint – Lead paint is common in older homes and needs to be removed in such a manner that the lead won't be inhaled or allowed to absorb into your bloodstream, proper lead removal procedures must be followed when working around lead paint. If you are renovating an older space in the Edmonton area and need professionals to remove the old materials hazardous or not call A&M Abatement Services
If you're looking for abatement professionals in the fields of demolition, mould removal, and remediation in the Edmonton area, give us a call at A&M Abatement Services Ltd.