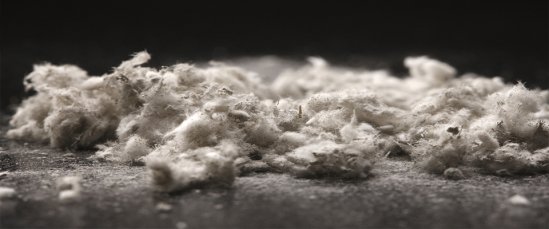 Nowadays the hazards of asbestos are well known. And it's already been several decades since we've stopped using this material in our homes. However, if your house was built before 1990, there's a fair chance that it contains asbestos. According to the Canadian Cancer Society, between the years 1920 and 1990, 240,000 homes across Canada were insulated with materials that might contain this potentially harmful product.
When is asbestos dangerous?
Asbestos becomes a risk to your health when the fibres become airborne and you breathe them into your lungs. The fibres can become airborne in two ways:
When asbestos-containing products begin to break down. Products that deteriorate and release asbestos fibres are called "friable" and can include attic insulation, spray-on popcorn ceilings, sprayed fireproofing and sprayed thermal insulation.
When asbestos-containing products are damaged, for instance by tears, cracks or water damage. Such damages might occur when people are doing home renovations
Note, however, that most housing materials containing asbestos don't pose health risks, so long as they're in good condition.
Why is asbestos dangerous?
Asbestos fibres, which can't be seen, smelled or tasted, don't dissolve in the body; once they've been inhaled or ingested, it's extremely difficult for our bodies to expel them. These trapped fibres can cause inflammation, scarring and ultimately cellular damage. Asbestos is associated with numerous diseases, the main three being lung cancer, asbestosis and mesothelioma: chronic diseases that are highly serious and often fatal. Every year a staggering 100,000 people worldwide die of asbestos-related diseases.
There are no immediate symptoms upon exposure to the substance, and asbestos-related illnesses often take 20 to 50 years to develop. However, given the seriousness of the diseases, once they've been diagnosed, there's often no way to effectively treat them. The only measures to take are preventive ones, including removing potentially dangerous asbestos-containing materials from your home and taking care not to expose yourself to such materials on the job. (Occupational exposure is by far the principal cause of asbestos-related illnesses.) 
What to do if you discover asbestos-containing materials in your home?
Sometimes it's essential to remove asbestos-containing materials; sometimes it's best to leave them undisturbed. In any case, evaluation and removal of asbestos should always be done by certified asbestos abatement professionals.
If you discover (or suspect) that asbestos was used in your home or building and you aren't certain that it's safe, don't hesitate to reach out to A&M Abatement. Our asbestos abatement contractors will provide you with the reliable and professional service you want for such an important task. Contact us today for asbestos removal in the Edmonton area.